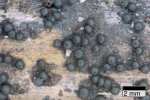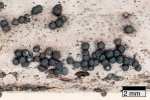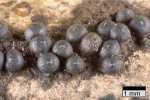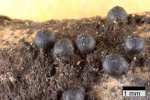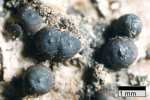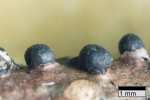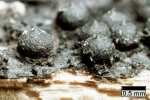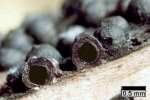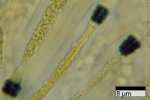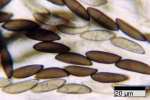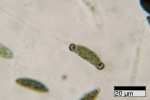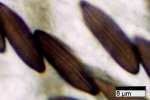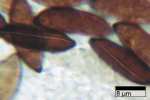 Rosellinia brittanica L. E. Petrini, O. Petrini & S. M. Francis.
Stromata uniperitheciate, scattered to gregarious, rarely fused together, dark brown to black, carbonaceous, hemispherical with usually flattened top and broadly attached base, 0.7-1.2 mm diam x0.5-0.9 mm high, mostly 0.8 x 0.7 mm; host surface usually blackened around the stromata; subiculum present during stromatal maturation, pale brown, of thin-walled hyphae 3-5 µm broad, bearing the felty anamorph at first stages; whitish remnants of subiculum are present on young stromata, and brown hyphae remain at the base of mature stromata but are easily overlooked.
Ostioles minutely papillate, conical.
Asci cylindrical, with apical apparatus cylindrical to slightly urn-shaped with a rim at the , amyloid, (4-) 5.5-6.8 (-7.5) µm high x 3.4-4.8 µm broad.
Ascospores (20-) 22-27 x 7-9.5 µm, ellipsoid-inequilateral, brown, with ends darker and usually pinched, with a straight to slightly sinuous, often slightly oblique germ slit spore-length on the less convex side; a slimy sheath present at both ends as rounded slimy caps, extending on the flattened side but barely visible.
Anamorph in nature: Geniculosporium-like, present on subiculum at young stages or on overmature stromata.
Specimens examined: FRANCE: Ariège (09): Alzen, Montredon, 25 May 1996, JF-96080, on living stem of Buddlea variabilis; Montseron, Roquebrune, 06 Feb. 1998, JF-98028, on Hedera helix; Rimont, Las Muros, 11 Apr. 1994, JF-94001, on dead canes of Rubus fructicosus; Rimont, Las Muros, ruisseau de Peyrau, 28 Apr. 1996, JF-96039, on dying Lonicera nigra; Rimont, Las Muros, 18 Jun. 1996, JF-96079, on Cornus sanguinea; Rimont, Las Muros, 08 May 2002, JF-02078, on dying Lonicera nigra; Rimont, Las Muros, 01 Aug. 2003, JF-03130, on dead stem of Lonicera nigra; Rimont, Las Muros, 31 Dec. 2003, JF-03237, on dying Lonicera nigra; Rimont, Sourroque, 15 Sept. 1996, JF-96114, on Lonicera periclymenum. Aude (11), Montmaur, La Forêt, 23 Feb. 2002, JF-02044, on Populus tremula. Haute Garonne (31): Escalquens, 13 Nov. 1994, JFM-94130, on Quercus or Fraxinus; Escalquens, JFM's place of residence, 15 March 2003, JFM-0314, on bamboo; Escalquens, JFM's place of residence, 15 March 2003, JFM-A0315 on Arundo donax; Fonsegrive, 31 Aug. 1996, JFM-9638, on broad leaved tree; Fourquevaux, Château Palis, 7 March 1999, JFM-9915, on bamboo; Martres Tolosane, le Moulin, Camping, 27 Apr. 2002, JF-02065, on dying Lonicera nigra; Toulouse, CRS park, 11 Dec. 1994, JFM-94161, on Hedera. Gironde (33), Mongauzy, 23 March 1996, JFM-9630, on broad leaved tree; Mongauzy, 11 Apr. 2003, JFM-0319, on Camaerops excelsa. Indre et Loire (37): Le Louroux, spring 2003, leg. P. Leroy, on Epilobium hirsutum.
Notes:When studying herbarium material named R. mammaeformis, Petrini et al. (1989) demonstrated that several different species were mixed under this name. Rosellinia britannica was erected as a new species primarily based on ascospore and ascal apical apparatus dimensions which diverge from typical R. mammaeformis. Rosellinia mammaeformis and R. britannica are superficially similar in their flat-topped stromata and evanescent subiculum. Rosellinia britannica differs in having larger ascospores with slimy caps only visible at both ends, and larger ascal apical apparatus.
Rosellinia britannica is widespread in Europe, known from Denmark, France, Italy, Great Britain and Switzerland (Petrini et al.,1989), and is widely plurivorous, frequent on Hedera helix and Fraxinus, but also rcorded on bamboo, palm, herbaceous stems (Epilobium hirsutum) and various woody substrates (present study). Along with R. corticium, it is the most frequently encountered species of Rosellinia in our region.
Rosellinia britannica exhibits wide variations in morphological and microscopical features, but all usually fall within the variation range stated by Petrini et al. (1989). Its occurrence on dying or recently dead stems of Lonicera nigra and Buddlea variabilis recorded during this study led the authors to thoroughly compare this material with typical material found on dead wood. Observed variations were falling within the variation range given by Petrini et al. (1989), except the absence of slimy caps on ascopore ends recorded in most of collections on dying Lonicera nigra. This correlation between a supposed pathogenic action and a faint morphological difference needs to be corroborated by further observations.